Creative Beginnings Christian Preschool
HALF-DAY PRESCHOOL & BILINGUAL TRANSITIONAL KINDERGARTEN
Creative Beginnings Fall Semester Begins August 30th, 2021
---
Please review the following form prior to the first day of school.
- Parent Safety Pledge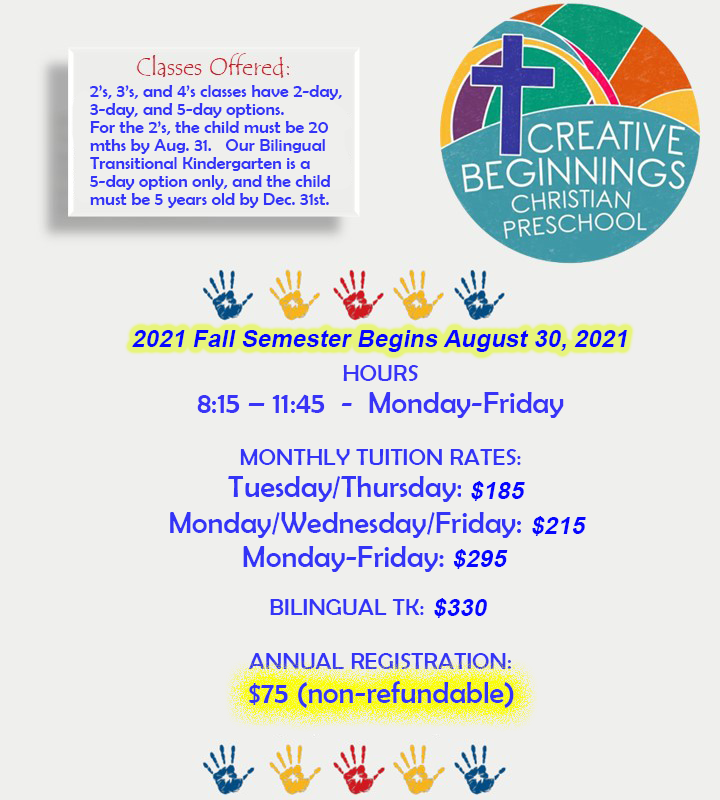 ---
---
QUICK LINKS
---
Our goals include:
Teaching children that they are a part of a special world God has created—that God loves and cares for them.
Providing Christian nurture through weekly themes and appropriate development activities—spiritual, cognitive, social, creative, and self-help.
Including parents in the education of their children as much as possible and giving them a Christian support system.
Including non-member families in all First Presbyterian Family Ministry programs.
Offering scholarships of reduced tuition for those in need of assistance—at the discretion of the advisory board (names kept confidential with the executive personnel).
Encouraging staff members to further their education through workshops, seminars, conferences and study.
"The Creative Beginnings Christian Preschool of Hendersonville Presbyterian Church admits students of any race, color, national or ethnical origin to all the rights, privileges, programs, and activities generally accorded or made available to students at the preschool. It doesn't discriminate on the basis of race, color, national or ethnical origin in administration of its educational policies, admission policies, scholarship and other preschool administered programs."
OBJECTIVES
The staff wants your child to be exposed to a variety of fun learning experiences. We want your child to have a positive attitude toward learning. The habits, ideas, interests and attitudes being acquired will influence the remainder of a child's life.
Spiritual
I am special! God made me! God is my heavenly Father and Jesus is my Friend and Savior. The Holy Spirit is with me always. Bible stories and Bible verses are offered as well as prayers and blessings. We share a special Chapel Time once a month..
Emotional
Children adapt to separation from parents, and trust is built with the caregiver as they offer love and comfort to the child. We encourage the children to show their emotions and be verbal (language skills) about how they feel—angry, happy, and sad, etc. Dramatic play is a useful tool in acting out emotions. We want the child to feel secure in his surroundings and become more self-confident and reliant.
Social
A very important part of preparing for the school years is getting along with others. Sharing and taking turns is encouraged as well as interaction with others, self-control, and self-expression. We want the children to leave us with a spirit of confidence and healthy independence. Children are taught good nutrition, health and hygiene habits.
Intellectual
A myriad of activities are offered to challenge your child, such as problem-solving through manipulatives and puzzles. Hand-eye coordination is encouraged for fine motor skills. Alphabet recognition, phonics, numbers and counting, colors, shapes, and the pledge of allegiance are incorporated on a daily basis. Centers offer blocks, books, home living, manipulatives, nature, science, creative art, and dramatic play. Following directions and listening skills are also taught.
Musical
We appreciate the time and talents of our church Music Director in offering of music Monday through Thursday. Programs are offered to give the parents an opportunity to see their little ones perform. Songs and finger plays and bell ringing are also introduced and led by Gayle Stepp, Hendersonville Presbyterian Church Director of Music. Children are introduced to the beauty of classical music.
Physical
Outdoor play and the use of large motor skills are important. Rhythmic movement is used for coordination. Jumping, running, swinging, balance and climbing are all essential in mastering large motor skills.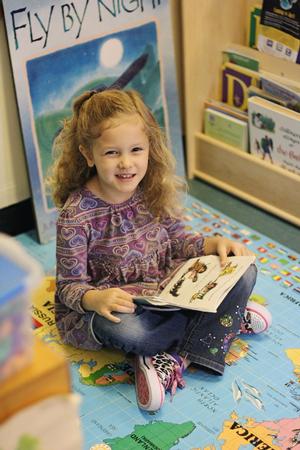 From the moment you walk through our doors, you and your child will feel a warm atmosphere of LOVE, LEARNING and FUN! You will find a close knit Christian staff dedicated to our COMMITMENT to EXCELLENCE!
We share in a partnership with our parents by creating a Christian environment of learning, happiness, health and safety for our children. The key to our success is communication with our professional staff working with our involved parents as a TEAM. We can ensure your peace of mind that your child will be surrounded by LOVE, CONCERN and CHALLENGING OPPORTUNITIES daily.
Webpage photography credit: Photos by Green Shack Studios - www.greenshackstudios.com (828) 674-0238
Find us on Facebook!