News & Announcements
Announcements

Community Prayer Gathering

Join us for a weekly prayer gathering, each Thursday at 12:00 noon in the Chapel. It will be facilitated by Pastor Bill and Greg Pope and other prayer leaders. Come expecting God to meet us!
Church Bazaar
The annual church bazaar will be held on Saturday morning, September 16, 2017. RAIN OR SHINE!
Downsizing? Please consider donating your household items to the church bazaar. All donations are tax deductible.
Be sure to check out our Teacup Raffle table for lots of handmade, unique gifts! Raffle tickets are available each Wednesday evening during the dinner hour and on Sunday during the coffee hour. (Just ask anyone you see to direct you to Tanya Jones or Ragena White.)
All proceeds benefit Creative Beginnings Christian Preschool and Operation Christmas Child Shoeboxes.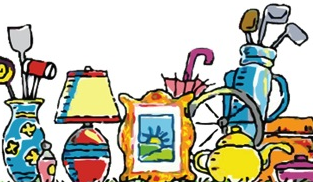 GriefShare Recovery Support Group
We will organize a 13-week Grief Recovery Support Ministry (GriefShare) if there is a need. Please call the church office if you would like more information.
Visitor Orientation Class
A 5-week class for those who would like to learn more about the church is usually held once each quarter. If you would like to explore the history and vision of our congregation, learn how you can be involved, and get to know the pastor, this class is for you. Please call the church office at 692-3211 for more information and to register.
Presbyterian Women
Presbyterian Women Bible Study and Circles is held on the second Monday of the month at 9:30 am in the Fellowship Hall. All ladies of the church are welcome.

The menu for this Wednesday is jambalaya with chicken, shrimp and sausage (tomato based stew – add your own level of spice!), mixed green salad, Greek salad, kitchen's rotating salad of choice, and banana cream pie.
This Wednesday's Table Talk Program
For our Table Talk this week, Pastor Bill will speak on "Controlling God."
We would love to have you participate in one of our 9:30 am classes. The Special Topics class meets in Room 206 and is studying "Wisdom from Ephesus: The study of the Gospel of John" by Michael Card. The Trinity Class meets in Room 210 and is studying "A Letter to the Hebrews." The Conversation class meets in Room 208 and is studying the Book of James.
Tune in Monday morning, September 18th, from 10:00 – 11:00 on WHKP 1450 AM/107.7 FM for Beyond Words Radio. Topic: The creation/evolution controversy has troubled and sometimes divided the Church through the centuries. This controversy has also diminished the witness of Christians to the scientific community. The problem of reconciling Scripture and science never seems to go away. Orthodox Jewish scholar and author of the book, The Science of God, Dr. Gerald Schroeder, has developed a theory of correlation that has led even staunch atheists to believe there is a God after all. In this interview, he will explain the thesis behind his writings.
You may also listen through the internet by connecting to this link. Archived podcasts are available at www.beyondwordsradio.org.
Missionary Prayer Request
Paul Sydnor could be likened to a juggler: he has many responsibilities within the refugee network, his local ministry is the French Center for Refugees, and he's finishing his dissertation for his Ph.D. His refugee focus is on Rome and Malta. He hopes to make the French Center for Refugees a center to support refugees in legal, educational, and social areas. He plans to defend his dissertation in September in Oxford. The Sydnors plan to visit the US from October to December. All their children are or will be pursuing academic goals in the US. He needs prayer!
2017 Flower Calendar
The 2017 Flower Calendar is posted in the information center in the Fellowship Hall. Sign up early for your special date. The suggested donation is $40. Please make your check payable to Hendersonville Presbyterian Church and note 'flowers' in the memo section, and also mark as a designated gift for 'flowers' on your offering envelope.