John Bayne coming home May 29 to play organ for Worship Service:
Many of you have asked me "how is John Bayne?" On Sunday, May 29, you will have the opportunity to again hear him play! John graced up with beautiful piano and organ music, played for VBS, and occasionally accompanied the choir or ensembles during his youth at Hendersonville Presbyterian. He is now a Sophomore at Furman University majoring in music. John is organist at the Daniel Chapel where he attended concerts as a young man. He has maintained high grades at Furman and remains on the Dean's List. John will be "coming home" for the weekend of May 29th to play the 11:00 worship service. Gayle is so grateful to John for all the music he has shared in the past, and for his willingness to play May 29th while she is on vacation.
Blue Ridge Bones to be guest musicians for May 15 worship service: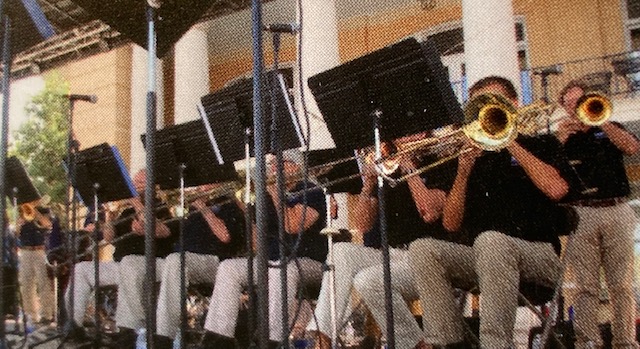 May 15, our own Grant Sitler, member of the Trombone Ensemble "Blue Ridge Bones" will play 4 selections at 11:00 worship. The group originated in 2014 with an idea shared by Dr. Jamie Warren (Brevard College), Dr. Gary Forth, and Tom Drick. Drick organized the group as a Trombone and Rhythm Section ensemble, beginning rehearsals January 24, 2015. The group has performed at The White Squirrel Festival (Brevard), North Carolina Apple Festival (Hendersonville), Asheville Community Band Concert, First Alliance Church (Hendersonville), Brevard College Jazz Concert, Twilight Tour (Brevard). The Blue Ridge Bones were also featured for the 2017 Tampa Bay Trombone Feste in Palm Harbor, Florida. This included 73 trombone players. The group has grown to 25 players with an eclectic repertoire including Pop and Rock Classics, Hymns, and Patriotic favorites.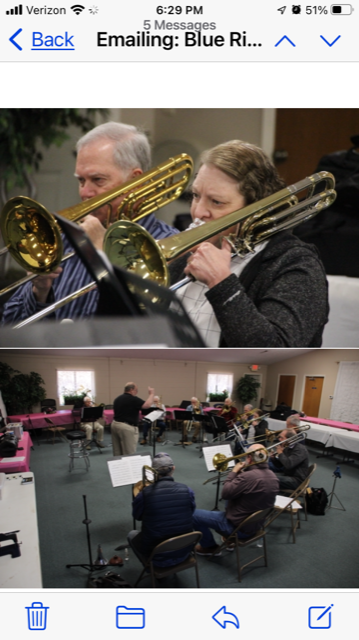 Trombone players in the group include:
Tom Drick, director and co-founded. He and his wife recently moved to Brevard from Florida where Tom directed music in a Methodist Church for 47 years. He is currently music minister at First Alliance Church of Hendersonville. Tom directs, covers library duties for the group, and arranges some of the music.
Gary Fort plays bass. Doctor Fort is a native of Kentucky and is co-founder of the group. He and his wife of 44 years now live in Brevard. Gary brings many years of experience with concert, church, and jazz bands in Kentucky, Texas, Florida and North Carolina.
Ken Kraus plays 1st part. Ken grew up in New Jersey, moved to Hendersonville where he lived for 40 years before moving to Augusta, Georgia. In Hendersonville, Kraus performed with the symphony, community band, the Nouveau Passe Orchestra, and the Asheville Community Band. He also directed the Buddy K Big Band in which he also played. Ken has much experience playing with church bands, orchestras, combos, and the Augusta Concert Band.
Paul Draper plays 1st part. Paul is a graduate of MIT with a degree in engineering. Paul has done tech consulting for banks and large businesses, including the Home Shopping Network. Four years ago, he and his wife Betsy retired to Waynesville; while continuing to play lead trombone in community bands, orchestras, and big bands.
Grant Sitler plays 2nd part. Grant graduated with a minor in trombone from Western State Colorado University; but his career focused on banking and finance. Currently, while living in Montana he was the trombonist for a live theatre company, played in community bands, church, and the Butte Symphony. In addition to playing in Blue Ridge Bones, he is now a member of two concert bands and occasionally plays in swing bands and church.
Joe Brashier plays 3rd part. A Mississippi native, Joe and his wife Susan (a professional oboist) retired to this area in 2018. During his 44-year career Joe served as band director at Valdosta State University in Georgia, Rutgers University, and Appalachian State University, where he directed the marching band. Dr. Brashier currently serves as assistant conductor for the group and arranges some of the compositions.
Tim Moe plays 4th part. Originally from Virginia, Tim is a retired church music director. Tim has played in various bands and orchestras through the years, including three US Air Force bands.
Fred Hall plays 5th part. This Long Island native graduated from Furman University with a BA in Music Education, majoring in trombone. He and his family have lived in Greenville, SC for decades. He is currently involved in six music groups, three concert bands, two jazz bands, and Blue Ridge Bones.
Pete Buccellato plays bass. Pete originated in Detroit before moving to Florida, then coming home to Anderson, SC. He plays trombone and euphonium in concert bands, orchestras, and jazz bands.
This is the perfect opportunity to invite a friend to church!