Adult Choir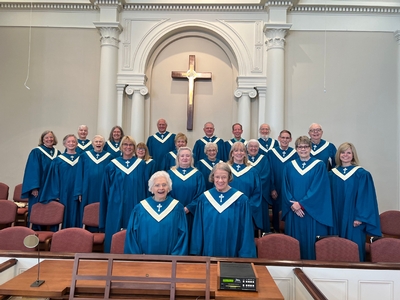 The Adult choir is comprised of around twenty-five singers.
Adult choir: Carol Broyles, Gaye Currier, Jack Dublynn, Gayle Emery, Kathy Gagnon, Cathey Gilbert, Gene Haney, Roy Hathaway, Brenda Holmer, Don Holmer, Gordon Krause, Jill Kutsch, Pat Johnson, Sherri Jones, Bill Jones, Caryl Mobley, Larry Mobley, Barb Norris, Grant Sitler, Susan Sitler, Susan Slingluff, Sherry Thomas, Teresa Lyle, and Bette Lee Taylor.
Led and accompanied by Gayle Stepp, a good balance of Soprano, Alton, Tenor and Basd sing praise with a variety of music from all eras.
The choir is entirely voluntary. No auditions are necessary. Anyone interested in singing may attend choir rehearsal at 4:00 on Wednesday.