Family Summer Bible Reading
Interested in a Bible reading plan to enjoy as a family these summer months of June, July, and August?

Check out The Hang 10 Summer Reading Program! This program focuses on walking KiDs and their families through the Bible, using stories selected from each book in the Bible. Beginning Sunday, May 28 and continuing through Saturday, September 2, each weekly plan will provide daily Bible readings and videos designed to help KiDs dig deeper into the Bible.

Let's join together and dive into the Bible this summer!
Blog Posts
Navigating Challenging Conversations with your Child
May 10, 2032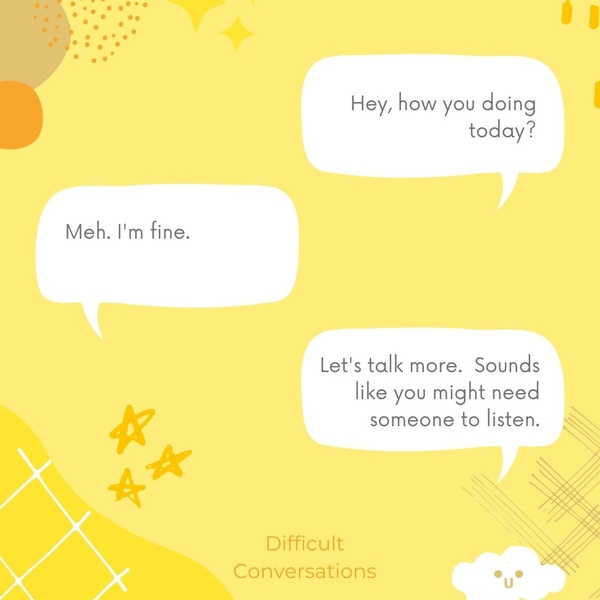 Unfortunately, we as parents are not given a manual on parenting as we leave the hospital with our precious bundles of joy. Navigating the milestones and all the challenges can be incredibly anxiety-producing, fear-filled, and honestly, quite nerve-wracking. As our children continue to grow, we may feel like we blinked our eyes and all of a sudden adolescence is on the horizon!
How do we navigate the more difficult conversations that need to be shared as our children grow and mature? It's hard enough to talk about sex, mental health, and/or violence with our spouses or closest friends, much less our own children! But, it is critical and imperative to have these conversations with our children and youth, taking these healthy steps toward open and safe communication. Laying a good framework for communication will help in yielding good fruit in the future, as unfortunately none of us are exempt from the impact of how sex, violence, and mental health may play out in our individual lives.
Our children's questions and experiences may seem as if they come out of nowhere. We may feel as if we are a deer in headlights as we process the gravity of the question just posed. Adapted from Parent Cue through Orange , here are some helpful tips to navigate three challenging conversations with your youth or child that focus on sex, violence, and mental health. May this knowledge help take the pressure off of each of us as parents (just a wee bit!) and replace our fear with courage:
Sex:
While sex in and of itself, in a marriage relationship, is a beautiful thing, it can be quite a tricky topic to navigate with our children and teens! There is risk involved and there is a great deal of curiosity in it all for our children.
Hit the high points: Taper your conversation with your child around the nature of their age and maturity level. You want to make sure your child understands the natural logistics of sex, however also what a healthy dating relationship looks like. There also may be the sensitive conversation to be had over any exposure to pornography, and while this may fill a parent with trepidation, it is beneficial to talk through all facets of the shame and negativity around pornography as well as discussing boundaries and accountability. Navigating this conversation in grace and love, with many arrow prayers sent heavenward to our God who hears, will truly profit your parent/child relationship for years to come.
When to get the ball rolling: You can begin to build a foundation for this topic early on by calling body parts by their scientific names and teaching kids to set and respect body boundaries. As your kids grow and mature, answer their questions about bodies and where babies come from in an age-appropriate way.
How to make the most of your conversations: With a foundation in place, plan to discuss sex regularly with your child. Our children are being exposed and hearing about unhealthy sexual boundaries, and possibly even exposed to pornography, at rapid (and early) rates with the rise of technology. Kids may even be exposed by late elementary school to pornography. We, as parents, would be wise to be on guard and be proactive in our conversations and healthy technology boundaries. Likewise, it is beneficial for your child to have grasped an understanding of how sex and the body works so they can readily have a script for saying "No, thanks" before a negative circumstance arises. Everyone will benefit from modeling and discussing what a healthy relationship looks like as our children grow and enter into middle and high school.
Additional Resources: For parents of daughters, I have found a couple of fantastic resources that help promote healthy conversations centered around the topic of sex, maturing, and building body-confident young women. One is Raising Body-Confident Daughters: 8 Conversations to Have with Your Tween by Dannah Gresh. Dannah Gresh is the best-selling author, speaker, and founder of True Girl (formerly Secret Keeper Girl), and has authored over 20 books that have been translated into 12 languages. She is considered one of the leading experts on the subjects of sexual theology and parenting tweens and teens, and her resources have equipped over one million moms and leaders as they seek to raise their girls in confidence and Truth. Secondly, Generations of Virtue: Beautifully Made! by Julie Hiramine is a 3 book series specifically designed to help guide girls and their mothers through the passage from girlhood to womanhood. Each of these are excellent resources that will help guide healthy and beneficial conversations between parent and daughter!
Violence:
Reading the news these days can be incredibly distressing. Between shootings, wars, and the divisive nature of our country, it can overwhelm even the most unshakeable adults. What, then, must it be doing to our kids?
Hit the high points: It's helpful for kids to understand that while, yes, there are people in our world who make terrible, harmful decisions, most people want the best for everyone. It is important to allow your child the opportunity to share their concerns and questions and hear your wisdom-filled responses. Enjoying a time of prayer together at both the beginning and end of the conversation can be an amazing way to experience God's peace within matters many of us can have great difficulty understanding.
When to get the ball rolling: While considering how you might tread lightly on heavy topics like war and shootings for young kids, consider how likely it is that someone else will tell them about a recent happening before doing it yourself. If this occurs, open the discussion directly while sparing your kid any graphic or unnecessarily scary details. Acknowledge and listen well as your child expresses any of their fear or distress and pray together, inviting God's peace and wisdom into the conversation.
How to make the most of your conversation: After answering questions in an age appropriate way, revisit the idea that most people want the best for everyone and then help your child find examples of people in your neighborhood, church, or community who live this out. Then, teach your child to fight fear by coming up with actionable steps they can take now or in a moment of crises. They might write a letter to a victim's family or learn to find an adult with children if they need help.
Mental Health issues
Experts agree our kids are currently experiencing a mental health crisis. Fueled by the realities of the past few years, more and more kids are experiencing anxiety and depression, engaging in self-harm, or even more tragic, attempting suicide.
Hit the high points: Kids need to know it's okay to feel down—even desperately so. They need to know and believe they aren't alone and that there is help available to see them to the other side. Sharing with them about King David and how he expressed his concerns, sorrows, and praises within the book of Psalms might be an excellent Biblical example to share with your child so they know they are not alone.
When to get the ball rolling: You might think it's best to avoid talking about mental health issues until they arise, but you can start right now to model what it looks like to take care of your own mental health, both proactively and reactively. You can also help younger kids begin to name their feelings by modeling the following conversation, "I can tell you're not happy, but what is it you're feeling? Sad? Mad? Scared? Frustrated? Hurt?"
How to make the most of your conversations: If you think your kid might really be struggling, it's always best to take the next step in saying something. It's wise to be direct, lead with love, and seek to find understanding. Also, reach out to a medical professional for help. Your child may resist this at first, but a trained counselor can help equip your child with useful tools and strategies as they move toward health and wholeness.
"For the Spirit God gave us does not make us timid, but gives us power, love and self-discipline."
1 Timothy 1:7
Family Resources
Download Your FREE Digital Copy Here
We are living in a culture increasingly hostile to Biblical truth. Cissie Graham Lynch understands the challenges of raising a family to live for Jesus. This devotional study of 1 Peter will inspire and equip you to spend daily time in God's Word. Peter wrote this short epistle to believers living in turbulent times, just like we are today.
This study is ideal for parents, grandparents, teachers and others with a passion to live Biblically and to share "the good news" (1 Peter 1:25) with the next generation.
"Every moment of each day should be steeped in His Word. Only then will we—and our children—be able to stand fast, "blameless and innocent…in the midst of a crooked and twisted generation," (Philippians 2:15).

-Cissie Graham Lynch